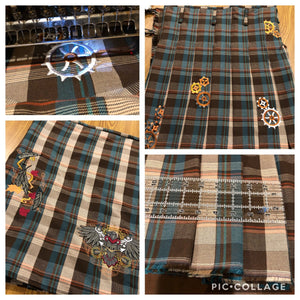 Ginger Muse Art
Specialty Kilt *Commision*
Regular price
$175.00
$0.00
Unit price
per
I started designing "themed" or specialty kilts about 8 years ago. I will take on 1-2 Kilt projects a year, considering the time commitment they will take. The fabric and design will vary and depend on the them you choose. I have made them out of Duck Cloth, Cottons, Linen, Satin, Loom Woven Tartan, machine woven tartans. The base fabric you choose will greatly depend on theme and will have the biggest effect on the overall cost. All custom kilts will start at $350 and will go up from there. Fabric, Pleating, pockets, front apron, belt loops, and length will all be determined before work begins.
If you would prefer a durable, comfortable everyday kilt I highly recommend Utilikilts.
If you would like to secure a commission pay the $175 Deposit, submit your measurements and please explain in as much detail as you can what you would like your kilt to look like.
Sending us a message to discuss your project is also strongly suggested.
Below are some examples of past projects.
Deadpool Dad
Steam Punk Plaid
Dungeon Master Toolbelt
Bridesman Pink
---
Share this Product
---